Young visitors at the museum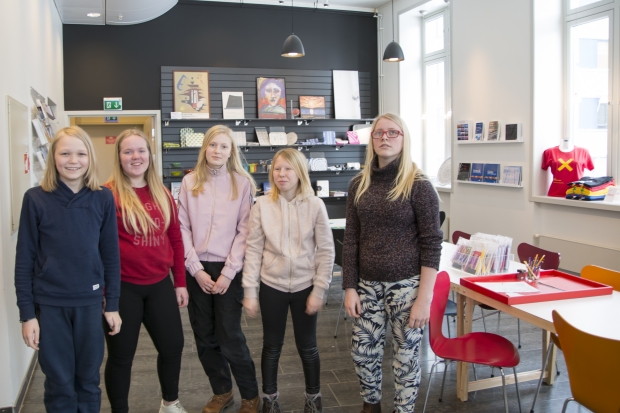 As many as 849 children have been visiting the museum so far this year. 
- What a shame that she had to give up painting for marriage and children. I'm glad it's not like that today, the 8th graders from Steinerskolen in Tromsø say. 
They are attending a mini-lesson about Cora Sandel with Kristin Løvås from Nordnorsk Kunstmuseum. Behind her Løvås have two original paintings made by Sandel, or Sara Fabricius as was her maiden name. The paintings are owned by the museum and used in order to tell the story about how Sandel worked as a painter before she got married.
This winter the museum has had many activities directed towards children and young people, both as a part of Sámi Dáiddamusea and in collaboration with The Cultural Backpack. There have been guided tours in the exhibition There is No, workshops and other outreach activities. On Sundays the workshops have been open for everyone, and where you could paint or make your own buttons. 
In the story of Cora Sandel Perspektivet Museum is also a collaborator. The classes visit this museum before arriving at Nordnorsk Kunstmuseum. Here they get to know more thoroughly the story of Sandel's writing career.
- What many poeple don't know is that Sandel was both a painter and a novelist. The children get to know also this part of this important story for Tromsø as a whole, Løvås says.
Sofia, Nikolai, Karita, Julia, Eira, Anne-Thea og Solveig from Steinerskolen think it was interesting to hear about Cora Sandels' life.