Jeremy Perrelle, USA
Outi Pieski "Kultatakki/Gollegákti/Golden gákti" 2007
"This dress reminds me of the creative things that my sister used to make out of gum paper. We grew up on the countryside in New York. It also reminds me of the "Jingle dress" that the native Americans use for their traditional dancing, with bright colours and feathers. My favourite part of the exhibition is the craft items." 
Mary Dowling, Irland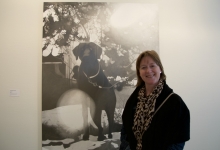 Hanne Grieg Hermansen "Namakeahttá/Unnamed"
"It's so fascinating that this artwork is made by pencil. I thought it was a photograph, you can see the fine details. It's different and unique, and the artist is so young too! I particularly like that the exhibition consists of different types of media. I love the jewellery downstairs as well. Now I need to go back to Ireland and read about Sami art."
George and Margareth, England
Gjert Rognli & Asbjørn Forsøget "Ja, Lihhkastat Gotta Doložis/And, the Movement from the Past" 2005
"The exhibition is very interesting. They need to show some political artwork so that the sami don't lose their identity and can continue their nomadic life and keep their culture alive. We like this video installation here in that sense a lot. But the plastic clothes downstairs are very interesting as well."
Fergus and Sarah O'Kane, Irland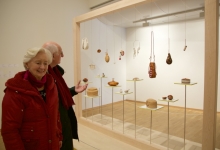 Duodji and Dáidda
"The sense of colour is extraordinary. We'd love to come back in the summer and see the colours in nature, where the inspiration must come from. The handcraft is equisite, amazing. It actually reminds us of the old Irish culture, from the Neolithic times. In Ireland this culture is very ancient, but here the Sami culture is alive and kicking in the present." 
Lionel Perabo, Tromsø
Britta Marakatt-Labba "Gádjunbáttit/Lifelines" 2009
"I know this artist from the work that's placed at UiT Arctic University of Norway. I think embroidery tells the Sami history in a very interesting way. It's mystical and this art piece reminds me of the Bayeux tapestry in my home country of France. There is a way of telling a story using vivid details in the embroidery. I love this exhibition, it's so cool."